Resumen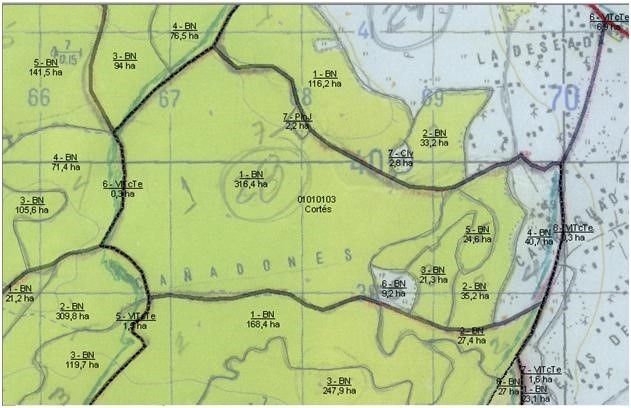 El presente trabajo se desarrolló en los bosques pertenecientes a la Empresa Agroforestal Guanahacabibes en el municipio Sandino, con el objetivo de evaluar la composición florística y fitocenológica, para ello se realizó un levantamiento de 12 parcelas de 10 x 10m (0,01 ha) donde se determinó la diversidad, estructura y dinámica del bosque. Se analizó la estructura horizontal y vertical, así como la diversidad alfa y beta, se analizaron las variables dasométricas como el diámetro y la altura, así como otros factores que influyen en el desarrollo de la masa boscosa como el clima y las características edáficas. Se identificó un total de 18 especies distribuidas en los tres estratos, no existiendo diferencias significativas entre estas.  En aras de mejorar la diversidad en el área estudiada y aumentar la productividad debe favorece el desarrollar en este tipo de formación boscosa como son la
Cedrela odorata
y la
Swietenia mahagoni
.
Autores/as
Odismarlyn Blanco Blanco

Cuba
Referencias
Beals, W. 1984. Bray-Curtis ordination: an effective strategy for analysis of multivariate ecological data. Advances in Ecological Research 14: 1- 55.

Borhidi, A. 1996 Phytogeography and Vegetation Ecology of Cuba. eds Akademiai Kiado. Budapest. pp. 752.

Feinsinger, P. 2003. El Diseño de estudios de Campo para la Conservación de la Biodiversidad. Editorial FAN. Santa Cruz de la Sierra, Bolivia. 155 157 p.

Ricardo-Nápoles, N. E; Herrera-Oliver, P. P.; Cejas-Rodríguez, F.; Bastart-Ortíz, J., A.; Regalado-Calero, T. 2009. Tipos y características de las formaciones vegetales de Cuba. Acta Botánica Cubana, 203:1-42
Palabras clave
composición florística; diversidad; estructura del forest
Copyright (c) 2020 Odismarlyn Blanco Blanco
Este obra está bajo una
licencia de Creative Commons Reconocimiento-NoComercial 4.0 Internacional
.