Resumen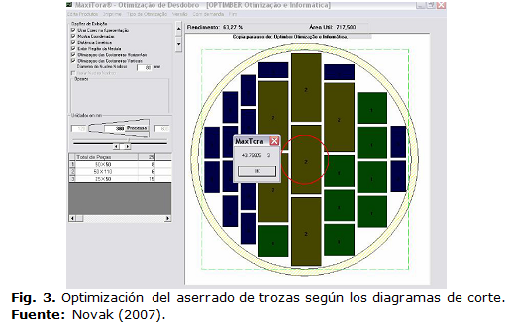 La presente investigación se realizó con la finalidad de proponer métodos y procedimientos de transformación mecánica a especies poco utilizadas, existentes en San Cristóbal, Artemisa, con el fin de potenciar la satisfacción de las necesidades reales de madera aserrada de especies tropicales con un nivel adecuado de calidad. Se utilizó como herramienta matemática el software SPSS para Windows en su versión 15.015.0. Se cuantificó que las especies preferidas por los consumidores son la Caoba, Cedro, Baría, Majagua y Teca; sin embargo las que se encuentran con una mayor densidad de existencia son el Almácigo, Pino hembra, Pino macho, Eucalipto y Ocuje; por lo que se proponen procedimientos para aprovechar estas materias primas con la finalidad de aprovechar al máximo la madera disponible en el entorno del municipio de San Cristóbal, Artemisa; teniendo en consideración un análisis de clúster que demuestra las similitudes de las características de las maderas entre las especies preferidas y las que predominan en el ecosistema estudiado.
Autores/as
Adrian Batlle Estévez
Universidad de Pinar del Río "Hnos Saíz Montes de Oca".
Cuba
Estudiante de Ingeniería Forestal Quinto Año.
Referencias
ÁLVAREZ, D. Tecnologia da madeira: retratibilidade. Centro de Pesquisas Florestais. 1992.

ALVAREZ, D.; EGAS, A.F.; IGNASIO ESTEVEZ., GUEVARA, M., y GONZALEZ, M. Valoración matemática para incrementar la eficiencia en los aserraderos. Revista Avances, 2007, 9, (1).

EGAS, A. F. Consideraciones para incrementar la eficiencia de los aserraderos de la provincia de Pinar del Río. Tesis para optar por el grado científico de Doctor en Ciencias Forestales. Universidad de Pinar del Río. Cuba, 1998.

LESLI, D., y REIMER, S. Fashioning furniture: Restructuring the future commodity chain. Area. 2003, 35, (4), 427-437.

LEOKONOUZE, A. Influencia de diferentes variables dendrometricas y calidad de árboles en pié sobre los rendimientos de madera aserrada de Pinus caribaea Morelet var. Caribaea Barret y Golfari. Tesis para optar por el grado científico de Doctor en Ciencias Forestales. Universidad de Pinar del Río. Cuba, 2011.

NOVAK, R. S. Um Sistema de Otimização Aplicada ao Desdobro de Madeira. Dissertação, (Mestrado em Ciências Florestais) Universidade Federal de Paraná. 2007.

RIDOUTT, B. G.; BALL, R. D.; y KILLERBY, S. K. Wood in the interior office environment: Effects on interpersonal perception. Forest products journal, 2002, 52, (9), 23-30.

SCHOLZ, S. W.; DECKER, R. Measuring the impact of wood species on consumer preferences for wooden furniture by means of the Analytic Hierarchy Process. Forest products journal, 2007, 57, (3), 23-28.

VALDEZ, R. H., ALVAREZ, D. A.; RAMIREZ, A.; GONZALEZ, I.; y PEÑALVER, A. Análisis de la utilización de diferentes especies maderables en la elaboración de artículos de alta demanda en el mercado de EFI Sierra Cristal perteneciente a la provincia Santiago de Cuba. Revista Forestal Baracoa, 2014, 33, p. 14-23
Palabras clave
Transformación mecánica; Entorno; Madera aserrada.