Resumen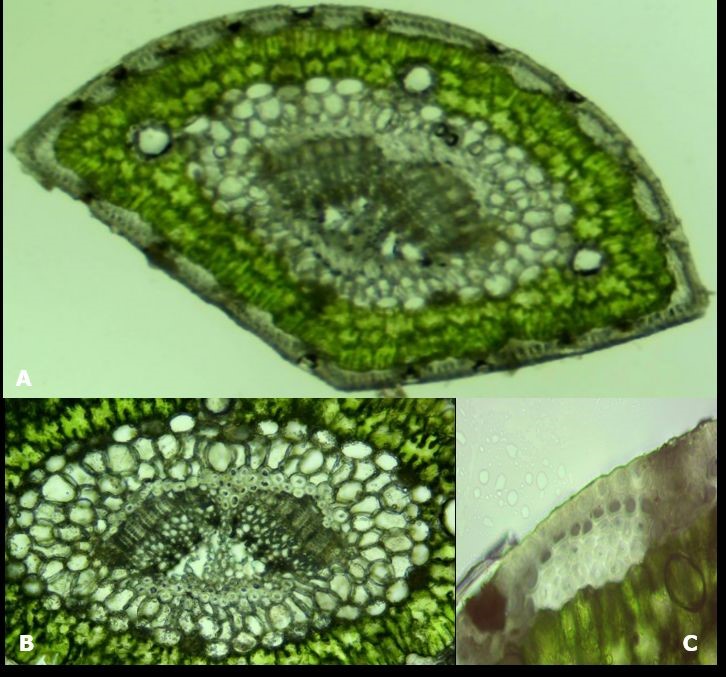 Con el objetivo de caracterizar la anatomía de acículas de Pinus caribaea var caribaea en cuatro localidades, se realizaron cortes transversales en la base de la acícula. Se analizaron 13 variables anatómicas en 30 individuos por localidad. La especie tiene una estructura equifacial con tres canales resiníferos y gran desarrollo del parénquima clorofílico. El análisis discriminante permitió diferenciar cada una de las localidades en relación edátopo donde se desarrollan. En la especie las variables que más discriminaron fueron parénquima de transfusión, el diámetro del canal de la derecha y el grosor de la epidermis.
Autores/as
Raúl Rafael Rodríguez Mesa
Universidad de Pinar del Río "Hnos Saíz Montes de Oca".
Cuba
Liutmila Pérez del Valle
Universidad de Pinar del Río "Hnos Saíz Montes de Oca". Departamento Ciencias Forestales.
Cuba
Referencias
Barrett, W. H. G y Golfari, L. 1962. Descripción de dos nuevas variedades del pino de Caribe. Caribbean Forestry (in Spanish) 23:59–71.

Buckley, T. N. 2005. The control of stomata by water balance. New Phytologist, 168: 275-292.

Dörken, V.M.; Stützel, T. 2012. Morphology, anatomy and vasculature of leaves in Pinus (Pinaceae) and its evolutionary meaning. Flora, 207:57 62.

Farjon, A.; Filer, D. 2013. An atlas of the world's conifers: An analysis of their distribution, biogeography, diversity and conservation status. Brill, Leiden, Netherlands

Gallien, L.; Saladin, B.; Boucher, F. C.; Richardson, D. M.; Zimmermann, N. E. 2015. Does the legacy of historical biogeography shape current invasiveness in pines? New Phytologist, DOI: 10.1111/

Gernandt, D.; Magallón, S.; Geada-López, G; Zenón-Flores, O.; Willyard, A. S. y Liston, A. 2008. Use of simultaneous analyses to guide fossil-based calibrations of Pinaceae phylogeny. International Journal of Plant Science, 169:1086-1099.

Jankowski, A.; Wika, T.P.; Żytkowiak, R.; Nihlgård, B.; Reich, P.B.; Oleksyn, J. 2017. Cold adaptation drives variability in needle structure and anatomy in Pinus sylvestris L. along a 1,900 km temperate-boreal transect. Functional Ecology, DOI: 10.1111/1365-2435.12946.

Kivimaenpaa. 2017. Article: Warning and elevated ozone differently modify needle anatomy of Norway spruce (Piceabies) and Scots pine (Pinus sylvestris).

Köbölkuti, Z.A.; Tóth, G.E.; Ladányi, M.; Höhn, M. 2017. Morphological and anatomical differentiation in peripheral Pinus sylvestris L, populations from the Carpathian region, DENDROBIOLOGY, 77:105-117.

Pérez-del Valle, L.; Geada-López, G.; Sotolongo-Sospedra, R. 2019. Diferencias anatómicas en acículas de Pinus tropicalis Morelet en edátopos extremos de pizarras y arenas blancas en Pinar del Río. Revista Cubana de Ciencias Forestales, 7(2): 225-239.

Piloto-Casado, J. A.; Armas-Armas, I.; Geada-López, G. 2017. Variación anatómica de acículas de Pinus caribaea var. caribaea Barrett y Golfari en seis localidades de Pinar del Río. Revista Científico Estudiantil de Ciencias Forestales y Ambientales, vol 2, no 2, pp 82-92.

Price, R. A.; Liston, A. y Strauss, S. H. 1998. Phylogeny and systematics of Pinus. In: Richardson, D. M. (Ed) Ecology and biogeography of Pinus. Cambridge: Cambridge University Press. pp. 49–68.

Rebolledo-Camacho, V.; Jardón-Barbolla, L.; Ramírez-Morillo, I.; Vázquez-Lobo, A.; Piñero-Dalmau, D.; Delgado, P. 2018. Genetic variation and dispersal patterns in three varieties of Pinus caribaea (Pinaceae) in the Caribbean Basin. Plant Ecology and Evolution, 151(1): 61–76.

Reyes-Hernández, V.J.; Vargas-Hernández, J.J.; Lopez-Upton, J.; Vaquera-Huerta, H. 2005. Variaciones morfológicas y anatómicas en poblaciones mexicanas de Pseudotsuga (Pinaceae). Acta Botánica Mexicana, 70:47-67.

Rothwell, G. W., G. Mapes, R. A. Stockey, Hilton, J. 2012. The seed cone Eathiestrobusgen. nov.: Fossil evidence for a Jurassic origin of Pinaceae. American Journal of Botany99: 708–720.
Palabras clave
Pinus caribaea; anatomía de acículas; variación.
Copyright (c) 2020 Raúl Rafael Rodríguez Mesa, Liutmila Pérez del Valle
Este obra está bajo una
licencia de Creative Commons Reconocimiento-NoComercial 4.0 Internacional
.