Resumen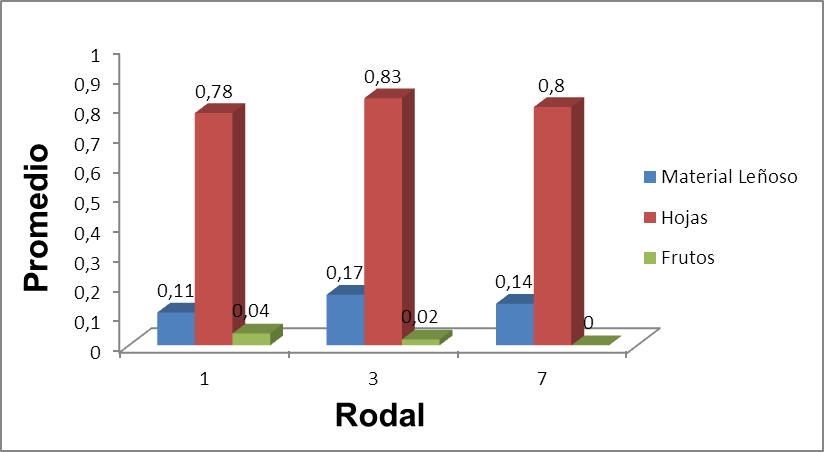 La siguiente investigación se realizó en rodales de la Unidad Silvícola Santa Lucia, perteneciente a la Empresa Agroforestal Minas; tiene como objetivo evaluar la contribución de la hojarasca a los componentes del suelo en rodales de Pinus caribaea var. Caribaea. La hojarasca fue colectada en tres calidades de sitio: Rodal 1 con calidad de sitio I, Rodal 3 con calidad III y el Rodal 7 con calidad de sitio II, en plantaciones de Pinus caribaea var. Caribaea, en edades comprendidas entre 9 y 20 años. Se obtuvieron muestras de suelo con y sin hojarasca, así como de suelo de la profundidad de la calicata y la superficie, para determinar el aporte de nutrientes y de materia orgánica, de la hojarasca al suelo por este concepto. El análisis estadístico arrojó que no hay diferencias significativas en los elementos, K2O, Mg2+, N; mientras que en los elementos: fósforo y materia orgánica sí se encontraron diferencias significativas en todos los casos.
Autores/as
Darien Miranda Pérez
Universidad de Pinar del Río
Cuba
Referencias
Barreto S., W., E. Périco, M. Schmidt D., M. Santos and R. L. Cajaiba. 2018. Are litterfall and litter decomposition processes indicators of forest regeneration in the neotropics? Insights from a case study in the Brazilian Amazon. Forest Ecology and Management 429: 189-197.

Castellanos, B. J y J. D. León. 2011. Descomposición de hojarasca y liberación de nutrimentos en plantaciones de Acacia mangium (Mimosaceae) establecidas en suelos degradados de Colombia. Revista de Biología Tropical 59(1): 113-128.

Fuentes N, Rodríguez B. Eficiencia en el retorno potencial de nutrientes vía hojarasca de un bosque tropical de ribera. Sierra Nevada de Santa Marta Colombia. Acta biol. Colomb. 2012;17(1):51-66.

Gaspar E, González M, Ramírez N, Aìlvarez J. Litter accumulation and decomposition in secondary forests of the southern Sierra Madre of Chiapas, Mexico. Bosque. 2015;36(3):467-480. Doi:10.4067/S0717-92002015000300013.

González-Rodríguez, H., R. G. Ramírez-Lozano, I. Cantú-Silva, M. V. Gómez-Meza, M. Cotera-Correa, A. Carrillo-Parra y J. J. Marroquín-Castillo. 2013. Producción de hojarasca y retorno de nutrientes vía foliar en un matorral desértico micrófilo en el noreste de México. Revista Chapingo Serie Ciencias Forestales y del Ambiente 19(2): 249-262.

Instituto Cubano de Geodesia y Cartografía. (ICGC). 1982. Hojas cartográficas de La Palma, Viñales y Minas de Matahambre.

Kuruvilla, T., C. M. Jijeesh and K. K. Seethalakshmi. 2016. Litter production and decomposition dynamics of a rare and endemic bamboo species Munrochloa ritcheyi of

Western Ghats, India. Tropical Ecology 57(3): 601-606.

Larned S. Dynamics of coarse riparian detritus in a Hawaiian stream ecosystem: a comparison of drought and post-drought conditions. J North Am Benthol Soc. 2018, 19 (2):215-234.

López J, González H, Ramírez R, Del Valle J, Gómez V. Producción de hojarasca y depósito potencial de nutrientes de las hojas en el Matorral Espinoso Tamaulipeco. Revista Mexicana de Ciencias Forestales. 2015;6 (30):74-89.

Marín D, Guedez Y, Márquez L. Las plantaciones de guadua (Guadua angustifolia Kunth) y bambú (Bambusa vulgarisSchrad.) de San Javier, estado Yaracuy, Venezuela. II. Aporte de nutrimentos y descomposición de la hojarasca. Rev Fac Agron. 2011;28:185-204.

Murovhi NR, Materechera S, Mulugeta S. Seasonal changes in litter fall and its quality from three sub-tropical fruit tree species at Nelspruit, South Africa. Agroforestry Systems. 2012;86:61-71.

Quintero J, Brochero H, Manrique P, Barrera M, Basso C, Romero S, et al. Ecological, biological and social dimensions of dengue vector breeding in five urban settings of Latin America: a multi-country study. BMC Infectious Diseases. 2014;14(1):38.

Rodríguez, H.E.J., 2010. "Producción de hojarasca y retorno potencial de nutrimentos, vía hojas en diferentes tipos de vegetación, noreste de México". Tesis de licenciatura. Facultad de Ciencias Forestales, Universidad Autónoma de Nuevo León. Linares, Nuevo León, México. 60 pp.

Doi:10.1186/1471-2334-14-38Statistical Package for the Social Sciences (SPSS). 2013. Statistical Package for the Social Sciences. Ver. 22.SPSS Inc. Armonk, NY USA. n/p.
Palabras clave
Calicata; fósforo; hojarasca; suelo; materia orgánica; potasio; rodal.
Copyright (c) 2019 Darien Miranda Pérez
Este obra está bajo una
licencia de Creative Commons Reconocimiento-NoComercial 4.0 Internacional
.