Resumen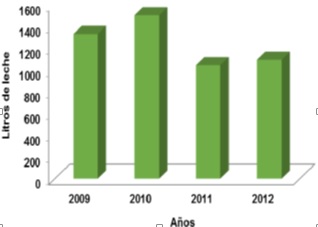 La presente investigación se realizó en la Unidad Empresarial de Base Caobilla perteneciente a la Empresa Pecuaria Punta de Palma con el objetivo de determinar los daños y beneficios derivados por la presencia de Bubalus bubalis en la misma. Para este fin se utilizaron los datos provenientes del departamento de economía de la empresa, con los cuales se hizo una caracterización de la especie en las condiciones de la misma, determinándose la cantidad de búfalas en ordeño, los litros por búfala, la cantidad de animales que se sacrifican, su peso total y promedio. Se cuantificó los daños y beneficios ocasionados por la especie en el área en el período 2009-2012. Se propuso algunas medidas para el manejo de la especie en el área. La especie mostró buen desarrollo en el área de estudio, los daños reportados en el período analizado no fueron significativos, mientras que los indicadores económicos fueron favorables.
Autores/as
Yoandi Mart
Universidad de Pinar del Río "Hermanos Saíz Montes de Oca"
Cuba
Estudiante de Ingeniería Forestal Quinto Año
Yatsunaris Alonso Torrens
Facultad de Ciencias Foresytales y Ambientales, Universidad de Pinar del Río "Hermanos Saíz Montes de Oca"
Cuba
Referencias
-ANGULO, R A; RESTREPO, L F Y BERDUGO, J A. 2005. Características de calidad de las canales bufalinas y vacunas comercializadas en Medellín, Colombia. Livestock Research for Rural Development. [en línea]. 2005, 17(103). [Consultado: 2 de febrero de 2014]. Disponible en: .

- ANGULO, R.A. et. al. Comparative analysis of the quality of cattle and bufaline carcass marketed in the city of Medellín - Colombia. In: Revista Científico Estudiantil Vol. 1, No. 2 (2013) Ciencias Forestales y Medio Ambiente Proceedings First Symposium Buffalo of Americas. Brasil: Belem-Para,

, p. 532-534.

- AREAN SILVERA, M Y SALCEDO MILLAN, Á. Efectividad del diagnóstico aleatorio a la tuberculosis en búfalo de río. Universidad de Granma, Bayamo, Cuba. 2008.

- CENCOP. Resumen Nacional del Registro Pecuario. La Habana: MINAGRI. 2000.

- GARCÍA CALDERÓN, S; PLANAS PÉREZ, TERESA Y ÁLVAREZ CALVO, J.L. Manual de Búfalos (No de Registro 394 – 2005). 2005.

- PLANAS, T. 2005. Bubalus bubalis, una especie salvajemente dócil y útil.

Revista ACPA, 2005, 1(41).

- RIVAS, B; VIEYRA, P Y ARAUJO, Z. Respuesta de inmunidad celular en la tuberculosis pulmonar. [en línea]. 2005. [Consultado 21 de marzo de 2014]. Disponible en: .

- SÁNCHEZ PÉREZ, T. et al. Comparación de los sistemas de manejo para Búfalos y Vacunos en una granja pecuaria del MININT en la zona de San Andrés. 2010.

- SCANNONE, H. 2009. El búfalo en Venezuela. [en línea] [Consultado 15 de enero de 2014]. Disponible en: .

- GÓMEZ, C. Guía metodológica para la evaluación económica de las Especies Exóticas Invasoras. 2013.
Palabras clave
Daños; Beneficios; Bubalus bubalis.
Copyright (c) 1969 Yoandi Mart, Yatsunaris Alonso Torrens
Este obra está bajo una
licencia de Creative Commons Reconocimiento 4.0 Internacional
.