Resumen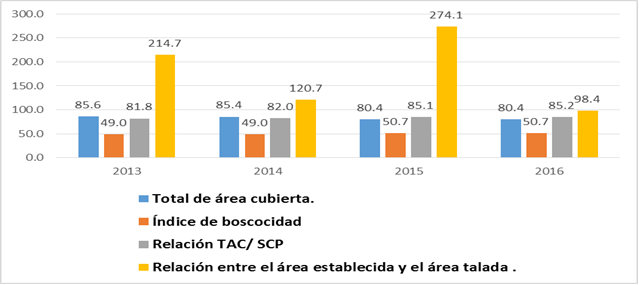 El presente trabajo se desarrolló en la UEB Silvícola Guane, perteneciente a la Empresa Agroforestal Macurijes, provincia Pinar del Río, durante los meses de octubre 2016 a abril 2017, con el objetivo de realizar una evaluación del monitoreo de los criterios e indicadores de sostenibilidad, durante los últimos cuatro años. El monitoreo de los criterios e indicadores se deben realizar a todas las Unidades Silvícolas de la Empresa, sin embargo, esta actividad no se realiza frecuentemente y en ocasiones se desconoce, lo que conlleva a no obtener resultados sobre bases científicas que garanticen una valoración correcta para conocer las tendencias del manejo forestal si es o no sostenible. Los indicadores fueron valorados mediante una escala, que permite clasificar su comportamiento y el control a través de varias fuentes, utilizando la metodología cubana; analizando los componentes y los diferentes sistemas de producción y las interacciones que deben existir entre los mismos. Con estas valoraciones se realizaron las gráficas de sostenibilidad, como herramientas para evaluar el desempeño de 5 criterios con 15 indicadores. El análisis valorativo mostró que, de los cinco criterios evaluados, tres son con categorías "Sobresalientes" (Cobertura Vegetal, Sanidad y Vitalidad de los Bosques, Múltiples Beneficios Socio Económicos) y dos "Extremadamente Débil" (Contribución de los Ecosistemas Forestales a los Servicios Ambientales, Funciones Productivas de los Ecosistemas Forestales) debido a la insuficiente atención por parte de los administrativos de la UEB Silvícola en cuanto al conocimiento y seguimiento del comportamiento de estos.
Referencias
Herrero, J. A. (2005). Criterios e indicadores de manejo forestal sostenible. Una visión de futuro. Agrinfor. Ministerio de la Agricultura, Habana, Cuba.

Picado-Mata, E.; Sepulveda, S. (1998). Instrumento para generar bases de datos con indicadores de desarrollo sostenible. san josé, cr, iica. (serie cuadernos técnicos iica .

Poschen, P. (2000). Social criteria and indicators for sustainable forest management – a guide to ilo texts (eschborn, germany, deutsche gesellschaft für technische zusammenarbeit (GTZ).
Palabras clave
Criterios; Indicadores; Gráficas de sostenibilidad
Copyright (c) 2020 Jessika Correa Yut
Este obra está bajo una
licencia de Creative Commons Reconocimiento-NoComercial 4.0 Internacional
.